How to Spot Fake UNO Cards
Uno is a very successful card game and it has multiple variants and everybody knows if something gets popular, people will start making copies of the product. In this article, we gonna tell you how you can identify fake Uno cards and from where you can buy official and real Uno cards for playing.
You can also try this Uno variation: How To Play Go Fish With Uno Cards
How to Identify Fake Uno Cards / Real Uno Cards
Firstly, you will see the difference in card quality. Real Uno cards are made up of premium paper and have a plastic coating on them, basically lamination. Fake ones are made up of recycled paper.
Check the name of "Mattel" which is the parent company of Uno. Fake Uno card's packaging looks very similar to the original ones but the first thing you have to see is the name of the company. As they cannot put the original company so, they put something which looks similar to original ones. You can see the below image.


You will see fewer certifications, as the original Uno has all the necessary certifications whereas fake ones don't have official certified ISO number, proper marking and color of the packet is also lighter or bloder than original ones.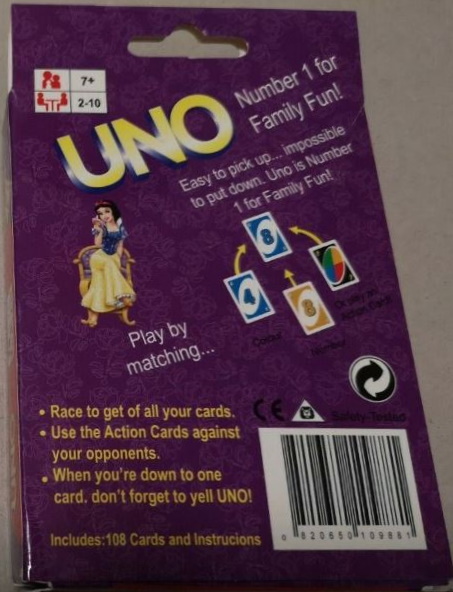 Where To Buy Uno Cards
Many websites are selling fake Uno cards online and we also buy sometimes because we find them cheaper than the original ones that we should not do because it means we are giving priority to piracy. But now don't worry we will tell you where you can buy authentic Uno cards.
The first place is Amazon. yes, you will find Mattel's official store there.
2nd place is Mattel's official website.
And 3rd place is the toy store near you. Yes, you can buy Uno from the local store that keeps original Uno or you can go to branded Uno store.
Well, in this video we don't need to put a conclusion, it is simple and straight that you should not buy or praise piracy products. We have mentioned all the points on how you can check the authenticity of the Uno cards.